News
With more news to follow soon, and, hopefully, at new hosting, now let's keep silence for a while to remember great late GEORGE HARRISON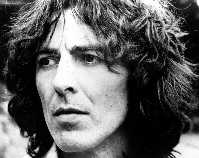 1943-2001
Rest In Peace, Hare Krishna, Guru Deva...
November 29, 2001
FRAMPTON COMES TO ALICE'S NIGHTMARE. ALIVE
Horror master Alice Cooper invited Peter Frampton to perform at the former's "Christmas Pudding: A Night Of Comedy & Music" on December 13th at the Celebrity Theatre in Phoenix, Arizona. Proceeds from the event will be donated to the Solid Rock Foundation, a Christian organization helping, as Frampton's site goes, "to meet the spiritual, economical, physical, and social needs of teenagers and children within the Arizona community, with goals to ultimately help kids throughout the entire country." Two greats will be joined on stage by Nils Lofgren and Sam Moore among others.
OF A LIFE IN A LAND OF SUBMARINES
January next year an in-depth book written by expert Bob Hieronimus will be publlshed, titled "Inside The Yellow Submarine: The Making of The Beatles' Animated Classic". Hieronimus, according to his own words, has been working on the book, which is 432-page tome with over 200 illustrations, for thirty years. Apple Corps granted the publishers a permission to use the original artwork by designer Heinz Edelmann, created especially for the book's cover".
WITH A LOVER TO A FRIEND
Recently, Paul McCartney and his fiancee, Heather Mills, visited George Harrison on Staten Island at the hospital where the Quite Beatle is undergoing the chemical therapy course. Seeing his friend battling with cancer, McCartney broke down in tears. George himself is in a good mood and, being a spiritual person, looks at death philosophically.
November 18, 2001
MORE HOOKED
Before it was reported of the work on John Lee Hooker tribute album going on. At the moment the list of artists involved has grown to include the following superstars: Bonnie Raitt, Carlos Santana, Jimmy Vaughn, Sue Foley, Billy Sheehan, Scott Holt, STEPPENWOLF's John Kay, BB King, Dave Gilmour, Jimmy Page, Eric Clapton, Van Morrison, Bill Wyman's RHYTHM KINGS, Paul Rodgers, Gary Brooker, Andy Fairweather-Low and, possibly, Chris Dreja and Jim McCarty of THE YARDBIRDS.
Thus, a little project threatens to turn out immensely huge. As of now, Jeff Beck has recorded two tracks, "Will The Circle Be Unbroken" and "Hobo Blues", while LLC, comprising former TEN YEARS AFTER players, came up with "Jesse James".
PAICE QUICKENS UP
Recent burst of activity of Ian Paice is stretching out to the joint tour with his old drumming friend Pete York. The two will be joined by Miller Anderson on guitar and vocals and Colin Hodgkinson on bass (Colin played with Pete in SPENCER DAVIES GROUP). Except for performing, the band will, as York saus, "give the audience the opportunity to ask questions about drumming, music, life on the road and life off the road".
ARJEN, NOT AYREON
Arjen Lucassen is currently working on his new project, which won't be labelled AYREON. Nevertheless, the album called "Space Metal" will feature AYREON stalwarts like Damian Wilson, Floor Jansen, Russell Allen and Dan Swano playing a certain character from the space films the songs are based on, plus AFTER FOREVER singer Floor.
BOSTON T-PARTY
With rumours of possible BOSTON in circulation, Escape Music set to work on the tribute album to the mighty melodic metal band. The songs will be performed by the genre's best voices: Tony O'Hara (PRAYING MANTIS), Terry Brock (THE SIGN), Peter Sundell (GRAND ILLUSION), Chris Ousey (VIRGINIA WOLF), Darcy Deutsch (PRISM) and Steve Overland (FM) with the addition of Steve Morris (HEARTLAND), Tommy Denander (RADIOACTIVE), Mike Walsh and Kenny Kaos on guitars, enormous Don Airey on keyboard on guitar, Frank Baker on drums and Dave Hopia on bass... and more to join the list. The album will be out in the beginning of 2002.
FRAMPTON COMES ALIVE AND NOT ALONE
Now living in Cincinatti, Peter Frampton is to host on December 9th a concert at the city's Taft Theatre with proceeds to be donated to the Clear Channel Relief Fund, which aids emergency personnel working in the aftermath of the September 11th terrorist attacks, as well as national and local chapters of the American Red Cross and the Salvation Army. The performers should be BLESSID UNION OF SOULS, ONE featuring 98 DEGREES' Justin Jeffre, Reggie Calloway of MIDNIGHT STARR fame, PAY THE GIRL and Greg Schaber with HIGH STREET.
SIR PAUL TO HONOUR NOBEL PRIZE
Not the one to receive the Nobel Prize himself, Paul McCartney, as well as Wyclef Jean, A-HA, Natalie Imbruglia, Youssou N'Dour and opera star Russell Watson will perform on December 11th at the Oslo Spektrum in Oslo, Norway, at the Nobel Peace Prize concert. The event will be broadcast on TV in the weeks following.
FREHLEY SENDS A COMET
KISS' original guitar slinger Ace Frehley will play on November 28th at New York's Hammerstein Ballroom for New York Steel, a benefit concert for victims of the September 11th terrorist attacks together with re-united TWISTED SISTER, whose guitarist Jay Jay French organized the show, Sebastian Bach, OVERKILL and ANTHRAX - the latter still keeping their controversial name. In the beginning Ace wanted to set up the benefit concert of his own, but instead he opted for a joint venture to raise more funds.
Frehley is to perform with his band the material he was doing before KISS reunion. Now, the guitarist plans to invite some of those taking a stage with him to play on his next album, which will be recorded in the studio Ace is currently building. The album, tentatively titled "The Baldest Baby On The Block, must be out by spring.
November 7, 2001
HOOKED ON HOOKER
This year, on June 21st, one of the blues giants passed away, and now Blue Storm Music work on tribute to John Lee Hooker. Supervised by former CREAM lyricist Pete Brown, who was in charge of wonderful "Knights Of The Blues Table" and "Rattlesnake Guitar" projects, the album will feature Jack Bruce, Gary Moore, George Thorogood, LITTLE FEAT, CANNED HEAT, Mick Taylor, Peter Green, LLC, Kim Simmonds with SAVOY BROWN and John Lee's daughter, Zakiya Hooker with her band BLUZ 4 U. The sessions begun in October, so there's no release date as of yet. A portion of the proceeds from these recordings will be donated on behalf of Blue Storm Music to The John Lee Hooker Foundation.
SOME THINGS NEVER CHANGE
Peter Green's SPLINTER GROUP pay another homage to blues roots with release of an exclusive CD entitled "Blues Don't Change", where the band cover their favourites. The list looks like this:
1. Don't Start Me Talking (Sonny Boy Williamson)
2. Take Out Some Insurance (Jimmy Reed)
3. When It All Comes Down (B.B. King)
4. Honey Bee (Muddy Waters)
5. Little Red Rooster (Howlin' Wolf)
6. I Believe My Time Ain't Long (Elmore James)
7. Nobody Knows You When You're Down And Out (Bessie Smith)
8. Help Me Through The Day (Freddie King)
9. The Blues Don't Change (Albert King)
10. Crawlin' King Snake (John Lee Hooker)
11. Honest I Do(Jimmy Reed)
The album was recorded in a couple of weeks during September with many tracks done on first or second takes like the originals recorded mostly in Chicago in the 50's. Green sings on nine tracks bar "Little Red Rooster" and "Nobody Knows You When You're Down And Out" where Nigel Watson takes the lead.
The CD is on sale at the current "Time Traders" tour concerts and soon will be available through the band's website.
FROM GROUP AND ORCHESTRA - TO FANS
Finally, a time comes for DEEP PURPLE's historical "Concerto For Group And Orchestra", originally recorded in 1969, to appear in full digital glory. The tapes are being remixed, and there will be a double CD with Malcolm Arnold's Symphony No. 6, PURPLE's three songs and the full "Concerto" with all the edits included as they were performed. Among them, the original encore, a shorter version of the third movement, is to be added.
PETER AND DAVID THE WOLF
A new sensational collaboration is Pete Townshend contributing guitar to David Bowie's upcoming album that still has no title. Townshend heard some demos Bowie has been working on in New York and found them delightful enough to be adorned with his parts. The two were to perform together at "The Concert for New York" organised by Paul McCartney but that didn't work out.
November 1, 2001
DARK HORSE ON THE RUN
Not the long overdue full-blown solo work from George Harrison, ex-Beatle is releasing his first single since 1987 - but only in U.K. at the moment, on the former SQUEEZE keyboardist Jools Holland's Small World, Big Friends label. The song titled "Horse to the Water" is written by George and his son Dhani, who played guitar on the 2000's version of "My Sweet Lord" from the "All Things Must Pass" re-issue, and recorded by Harrison and Holland on October 1st at the former's home.
Now Holland is a host to the popular BBC TV show, and managed to assemble an impressive lineup of guests to play on his CD that's to be out on November 19th, among them are Eric Clapton, Steve Winwood, Sting and Mark Knopfler.
MASTERS GO REMASTERS
URIAH HEEP don't stop their glorious race back to the top and have now the new album out, the first official anthology approved by the band themselves. Still, it's not the real anthology, not a compilation of previously released songs, but a collection of material both old and new recorded by the current line-up - that's why there's no recording of Sloman and Goalby eras. The double-CD set features new remixes and alternate versions including the rehearsals for the "Acoustically Driven" sessions. The tracklisting runs like this:
CD One:

1. Gypsy
2. Come Away Melinda
3. Lady In Black
4. Bird Of Prey
5. Look At Yourself
6. July Morning
7. Easy Livin'
8. Traveller In Time
9. Sunrise
10. Blind Eye
11. Rain
12. Stealin'
13. Sweet Freedom

CD Two:

1. Wonderworld
2. The Easy Road
3. Return To Fantasy
4. Why Did You Go
5. Come Back To Me
6. More Fool You
7. Different World
8. Cross That Line
9. Time Of Revelation
10. Universal Wheels
11. Love In Silence
12. Between Two Worlds
13. Only The Young
14. The Golden Palace
Moreover, there are two HEEP DVDs in the pipeline, one with the band's 1997's show in Nottingham, the other being the legendary Moscow 1987's concert.
REED TURNS RAVEN
New project by Lou Reed is called "POEtry" and, like its title suggests, is based on the works of Edgar Allen Poe. Reed wrote thirteen songs for the project as well as an overture and libretto - there will be a record out towards the end of 2001 - and a variety of ambient and textural music. Now Lou is busy producing the show with theater director and lighting designer Robert Wilson, whom he worked with earlier in 1996 on a hard rock odyssey "Time Rocker". The play will be presented during BAM's Next Wave Festival at the Howard Gilman Opera House.
COVERDALE DEMO-ISED
Always busy Mr Tony Franklin reports on his latest activity, writing to DME: "I just got back to L.A. after a week with David Coverdale. I am helping him with his demos - playing bass (of course!), guitar, keyboards, and operating ProTools! It was a fun time and I'll be doing some more with him over the next few weeks". Teasing.
THE VOICE FOR A CHOICE
Glenn Hughes has a present for his fans. Available through his site for a free download is a version of "America The Beautiful" recorded in late 1999 for the WWF Smackdown show on the UPN television network.
Having finished the recording of the HUGHES-TURNER PROJECT album, The Voice Of Rock agreed now to sing a duet with former Malmsteen vocalist Jeff Scott Soto for the latter's forthcoming solo album, "Humanimal", to be out later in the year.
STONES ROLL ON
THE ROLLING STONES set to celebrate their upcoming 40th anniversary with a full-blown world tour, none details on which aren't out at the moment.
BEST AND BREAKFEST OF THE BEATLES
The House of Blues has a show called Breakfast With The Beatles scheduled for December 1st, with profits going to the Rainbow Foundation, which provides financial assistance for children and families in crisis. There's an impressive line-up of performers for the show promoted by Sam Leach, the original BEATLES promoter: Pete Best (THE BEATLES), Joey Molland (BADFINGER), Howard Casey (Paul McCartney), Kelly Keagy (NIGHT RANGER), Jim Peterik (SURVIVOR), Johnny Van Zant (LYNYRD SKYNYRD), Joe Vana (MECCA), Fergie Frederiksen (TOTO), Kevin Chalfant (TWO FIRES), Spencer Davis (SPENCER DAVIES GROUP), Terry Brock (THE SIGN), Randy Jackson (ZEBRA) and others.
RICK'S THE WIZARD OF A THOUSAND KING
Back to the large-scale work, Rick Wakeman is working currently on a new choral work for the English Chamber Choir, entitled "The Wizard (And The Forest Of All Dreams)". It's a surrealistic suite about the guardian of all dreams who releases special powers in those who believe: the power to fly, to re-invent childhood, to travel in time, and a sixth sense. The six pieces tell the discovery of the Forest of all Dreams, the four gifts, and the finale where the gifts are returned to the Wizard. Recording, to be made in a couple of weeks, is intended to be performed in stately homes in the UK next year with one to be filmed for release on DVD.
PLEASE, (DON'T) TOUCH!
As it was reported before, Steve Hackett has a live box set out. Now there's a chance to get a hold on the brilliant 4CD collection through the artist's Camino Records and be granted a bonus CD with one more show.
Newcastle City Hall - 26/10/79

Please Don't Touch
Tigermoth
Every Day
The Steppes
Narnia
The Red Flower of Tai Chi
Sentimental Institution
Star Of Sirius
Spectral Mornings
Clocks

Bonus tracks:

Hammersmith 30/10/78

Ace Of Wands
Hands Of The Priestess
Racing In A
CONCERT FOR NY - HIGHLIGHTS OUT
November 17th is the release date for the highlights from the Concert for New York hosted by Paul McCartney at the Madison Square Garden on October 20th. There's no tracklisting at the moment but that will be a 2CD set with proceeds to benefit the Robin Hood Relief Fund to help lower-income New Yorkers affected by the attacks of September 11th as well as the families of firefighters, police officers and rescue workers who were injured or killed.